The industrial revolution was a significant advancement for humanity, yet it would not have been possible without the modest boiler. In fact, boilers were the unsung heroes. They powered factories, steam ships, locomotives and what not. Many people worked hard to make them more efficient, so that we could harness their power more effectively.
As boilers have so many significant attributes, it's only logical that we maintain them properly to enjoy their full potential.
What are boilers, and how are they utilized today?
For centuries, boilers are used to create heat, which can then be used to produce steam. Boilers employ a variety of fuels, including oil and gas, fossil, non-fossil, and biofuels, to produce steam. Steam is a very useful byproduct of the heating process, which is then used for various purposes in industrial as well as domestic applications.
The idea of a boiler is similar to that of a pressure cooker, but on a much larger scale. Also, the types of boilers vary based on the functions, designs, fuel usage, capacity and consumption. To know more about its working process and classification, click here.
Industrial boilers generate heat and power for diverse systems and applications across numerous sectors. Some common industries that use heavy boilers are power generation plants, food processing units, cement, sugar, paper, steel, textile and many more industries.
The market for industrial boilers was estimated to be worth USD 15.31 billion in 2020, and from 2022 to 2030, it is anticipated to rise at a CAGR of 5.0%, according to Precedence Research, a Canadian organization.
Scroll right to view more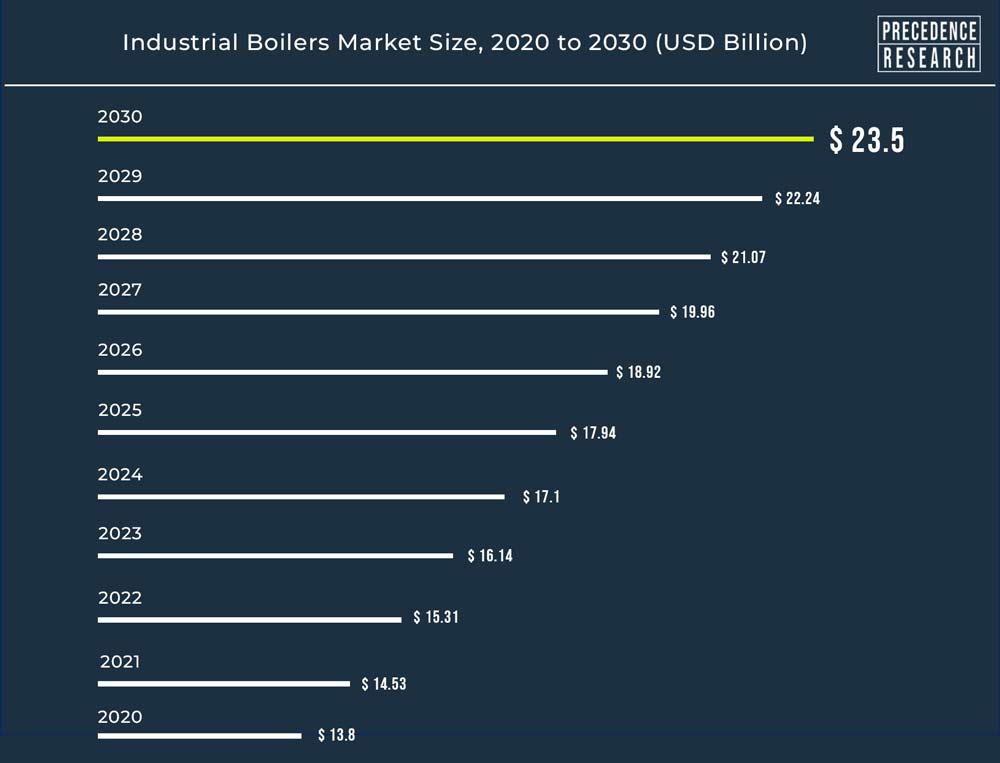 Source credit: Precedence Research
This increase is fueled by the manufacturing sector's quick adoption of automation and robotics both domestically and abroad.
The explosion of new and innovative technologies in the manufacturing industry is expected to have a significant impact on the boiler market. In fact, numerous cutting-edge boiler industry trends have quickly evolved during the last ten years. Companies now have access to such sophisticated systems ever created, with even more advancements to emerge as the need for low NOx (nitrogen oxide) performance systems, greater efficiency units, and lower carbon footprints grows.
Why do we need to maintain a boiler?
There is no doubt that boilers are essential in industrial settings and are constantly in use. Because of this, boiler maintenance calls for a methodical approach.
One of the most important reasons is to ensure that the boiler is working properly and efficiently. This can help save time, money and resources. Boiler efficiency is measured by the amount of energy that it takes to heat a given amount of water. The more efficient your boiler is, the less fuel you will need to use. This can save you money and improve your company's environmental impact.
Another reason is to ensure that the boiler does not break down. When a boiler breaks down, it can create a lot of problems for an industrial company such as needing to shut down production until it gets fixed or having to replace the entire system.
If you maintain your boiler well, then you will be able to avoid these issues in the future.
Recommended Boiler Maintenance Checklist
To ensure your boiler is running as it should, there are several maintenance steps you should take. In particular, implementing regular preventive maintenance procedures will guarantee that your boiler stays dependable, secure, and effective for a long time.
Daily Boiler Maintenance Checklist
You should check a number of items every day to make sure your boiler system is performing properly, includes:
Check water levels in the boiler and adjust as necessary. Also, look out for boiler for any visible signs of corrosion or damage
Test the pressure and temperature gauges, combustion efficiency, low water cutoff, high limit switch, boiler control system and related wiring
Inspect the safety valves, pressure relief valves, fuel, flue, ventilation, and air supply systems
Clean the burner, heat exchanger, condensate drain and other parts of the boiler that require daily cleaning
Tighten all connections, valves, and fittings
When doing all these steps, keep in mind to record the inspected data into a log book.
Monthly Boiler Maintenance Checklist
Even if you might not even need to check the following components every day, it is vital to do so once a month, particularly for the crucial boiler parts:
Check the boiler for any signs of soot buildup, rust and corrosion, its gas pressure and adjust as necessary, loose connections or leaks,
Clean the burner, fuel filters, and heat exchangers.
Test all safety controls for proper operation.
Inspect the flue and chimney for any blockages.
Check the condensate pump and refill the water as needed.
Check the control settings and adjust as necessary
Periodically Boiler Maintenance Checklist
Quarterly or seasonal inspections are other names for periodic responsibilities. As one can expect, each season brings with it unique quirks for the boiler systems. In the meanwhile, we've created a list of periodic actions for you to incorporate into your preventative maintenance plan. You should keep an eye out for the following during your quarterly inspection:
Check the burners' flames for any abnormalities in appearance.
Look for leaks in the hydronic piping of the boiler
The wiring and switch condition.
Low flow cutoff devices are used to check the water levels to make sure they are within the manufacturer's recommended range.
Inspect the front and back door gaskets and restore them as necessary.
Pump alignment should be verified on all base-mounted pumps.
Related Blog: Boiler Maintenance Checklist: Best Practices for Boiler Efficiency and Longevity 
Periodically Boiler Maintenance Checklist
Annual inspection for your boiler system is a must, in fact you will be obliged to do it. Here's what you need to examine.
Fix the heating system, if there are any issues
Ensure that the pipe and joint connections are secure by inspecting the venting system for deterioration, corrosion, and obstructions
Change tubes, tube sheets, and shells for substantial scaling and metal for oxygen corrosion
Refractory for crack filling, coasting repair, and cleaning as required
Make sure the pH of the water is within the proper range by checking it
It is necessary to inspect gas valves and safety valves for leaks in accordance with the manufacturer's instructions
Test control settings, management and security controls.
Inspect and replace the wiring and electrical connections if they are not in good shape
Boiler efficiency and longevity are two of the most important things to look for in a boiler. In order to have the best possible boiler experience, you should be aware of some best practices regarding your boiler. Old boilers especially need to have a good maintenance plan with regular cleaning, inspection, and flushing to gain its maximum performance. This way you can save your money, fuel resources and even improve your company's environmental impact. To save an additional carbon footprint for your company, get in touch with Buyofuel.